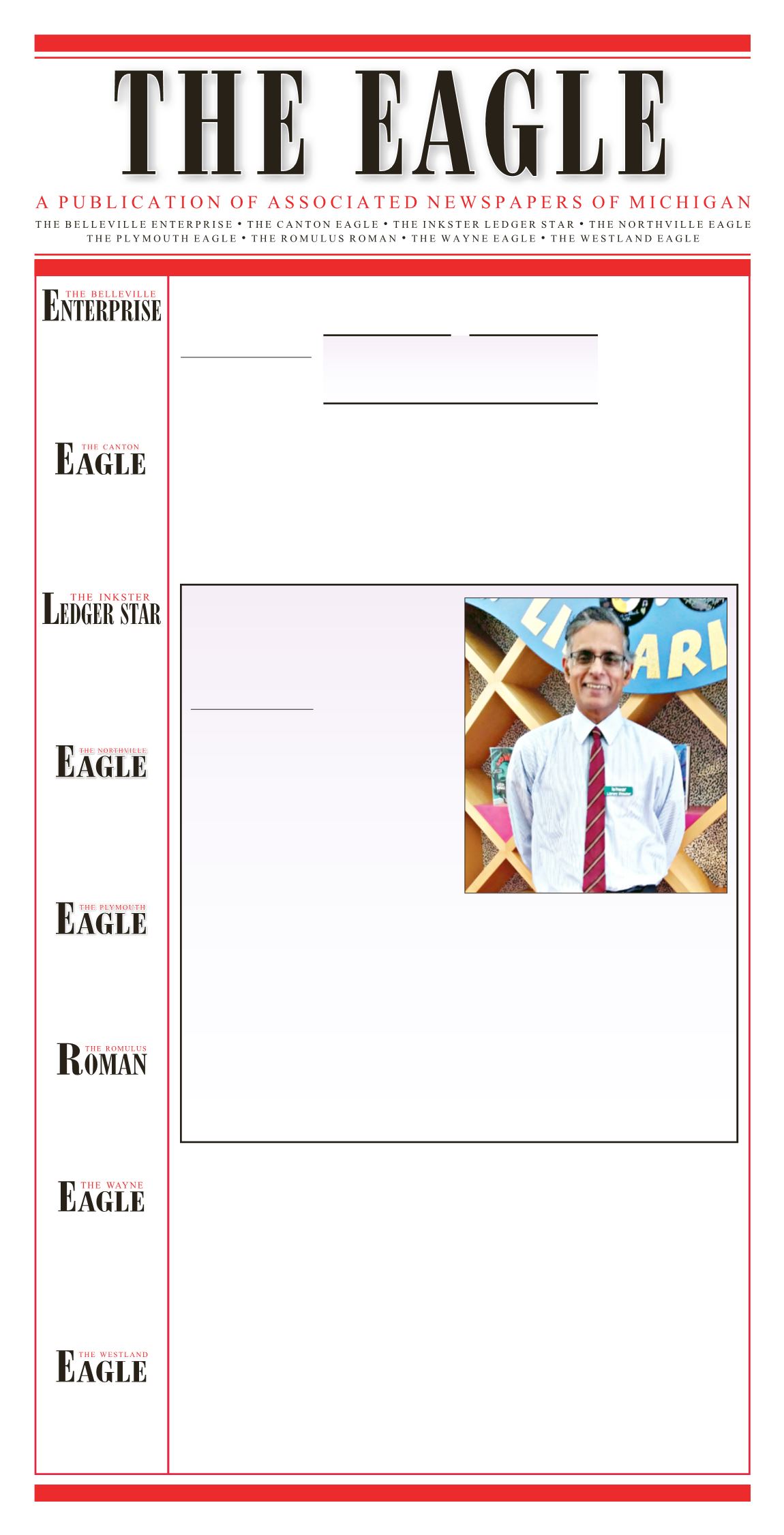 NEWS YOU CAN USE, NEWS YOU CAN TRUST
w w w . a s s o c i a t e d n e w s p a p e r s . n e t
traffic slowdowns as recon-
struction work gets under
soon see the construction of
Craig-Bragg wants to make
sure all the votes are count-
edduring theAug. 7 election.
For home delivery of The Eagle call 734-467-1900.
roof at fire station number 4
during theirmeeting July 16.
A five-month investigation
into a retail fraud operation
Townshippolice last week.
Inkster was chosen as one of
Women of Achievement dur-
and said goodbye to another.
Certificate of Achievement
in the Michigan Townships
Voters in Canton Township
are being asked to approve a
1.45-millage measure on the
Aug. 7 primary ballot. It would
generate approximately $5.6
million in the first year to fix
roads riddled with potholes and
Canton Township Supervisor
Pat Williams said administra-
tors are "working very hard to
already hosted a number of
forums to share details on the
explained the poor condition of
many roads is more than a
headache for drivers who pay
car repair bills. The road condi-
tions greatly impact safety, they
note, particularly on heavily
If approved on Aug. 7, major
county-controlled roads would
receive 55 percent of funds,
local county/subdivision roads
30 percent, and roads under
state control 15 percent. The
Canton Township website at
calculator to help voters deter-
mine what they would pay indi-
The millage would last 20
years and all money would stay
in Canton Township for road
"To be absolutely honest, I
have no idea" if voters will say
yes, Williams said last week.
"I'm interested like many others
to seewhat the residentswant."
Canton residents, Williams has
found them "split pretty evenly"
forum) has been a little better
attended than the one previous-
A non-official local Facebook
group, with no connection to the
Canton municipal government,
has more than 6,000 members,
withmany posts on the road tax.
"It's a very lively discussion.
It's been a lively debate and an
interesting debate to watch,"
Efforts to address Ford Road
safety in particular have gone
on for many years and a com-
It's a very lively discussion.
It's been a lively debate and an
interesting debate to watch.
Canton road repair vote next week
No one is above the law as
state Rep. Jewell Jones, D-Inkster,
Michigan State Police trooper on
Interstate 94 in May and cited for
having open intoxicants in the
vehicle and a cracked or deficient
Jones, the youngest state rep-
resentative in Michigan, serves
the City of Inkster, parts of
Livonia, Westland, Garden City
and Dearborn Heights. He is
The open intoxicant charge is
a misdemeanor that carries a
penalty of up to 93 days in jail and
a $500 fine. His arraignment on
the charges is set for Aug. 24 in the
19th District Court in Dearborn
before Judge L. Eugene Hunt, Jr.,
according to court records.
A court date regarding the
windshield infraction is expected
to be set during the Aug. 24
dents will see no increase in
water and sewer rates for 2018-
19, and a modest increase in
their trash collection fees - the
board of trustees unanimously
approved these adjustments at
The zero increase in water
and sewer rates is due to rate
increases made last year to
recoup cuts made by the previ-
ous administration in the 2016
election year, officials said,
along with savings realized by
the withdrawal in 2017 from the
Wayne County sewer system.
Plymouth Township is now fully
within the Western Townships
Utilities Authority (WTUA) and
sends all its sewage flows to the
Ypsilanti Sewage Treatment
Plant, according to a prepared
approved an increase of $1.25
per household for the township
Solid Waste Fund, which covers
the cost of trash and yard waste
pickup, shred days, and the
Household Hazardous Waste
Day. This is the first increase in
the Solid Waste fee since 2007,
Waste fund had been allowed to
decrease to unacceptable levels
by the previous administration,
including a two-month election-
year fee waiver in 2016 costing
the township $223,000. The fund
now needs to be increased to
ensure stable budgeting and
funding going forward, Heise
take place immediately and will
be reflected on residents' next
New Westland Library director
credits staff dedication to public
Court date set for state representative
Plymouth Township to see trash rate hike
new director of the William P.
Westland is quick to tip his hat to
the hard-working, dedicated
"I'm extremely proud. It just
shows the commitment they
have. They demonstrated that in
large measure the last couple of
years when the library went
though those challenges," he
library staff held things together
through what he referred to as
internal challenges. "They
stepped up. They made sure the
needs of the community came
ouslywas director of the Jackson
District Library system for some
10 years, is now looking forward,
focusing on developing relation-
ships in the Westland communi-
ty and beyond. He's also quick to
praise the newLibraryBoard.
"They did this for the love of
the community. Now our task is
to focus on the day-to-day opera-
tions and provide top notch serv-
ices to the community," he said
from his office at the Central
City Parkway library, between
FordRoad andWarrenAvenue.
He joined Westland Rotary,
reached out to the Westland
Chamber of Commerce, and is
also connecting with school
impressed with the community.
It's a close-knit community," he
said. He brought out a library
newsletter with program high-
lights and a wealth of fliers on
programs and services for all
"Of course, this is the peak of
gram)." He said he is proud of
keeping children engaged in
summer, including a recent
wildlife safari program that
He said he is also impressed
with homebound services that
keep older adults reading and
learning, "as they say, cradle to
maturity. Ethnicity, diversity,
libraries are fun, engaging
library science is from Emory
University in Atlanta, GA, with
his having taken an unpaid
leave from U.S. government
service to study in the United
"I grewup in India."He spent
time inKolkata there, whichwas
formerly known as Calcutta. In
India, he did his undergraduate
work in business and had great
Library science programs in
India, he explained, are under-
graduate, unlike the U.S. He
joined the U.S. Information
Agency in India, which included
extensive library operations in
At one point, he was told, "Oh
and by the way you have to go to
library school at night."
In India, he enjoyed meeting
Fulbright scholars and the U.S.
career foreign service officers
University yielded great friend-
ships along with interest from
his young family in U.S. schools
"I got more excited about
librarianship as a career," said
Laxminarayan. Later in Jackson,
he found his "true calling as a
He said the Westland facility
is a "place where a lot of creativ-
ity happens." That includes sup-
port groups, English as a second
language, and even an Aug. 4 3D
"Initially there was concern
one technology would replace
another," he said of electronic
offerings, including books. That
puts pressure on public library